How to Find the Hottest Leads Ready to Buy Services Like Yours with Local Search!
By Sean Greeley
NPE Founder & CEO
Picture this…. A couple is struggling with their health. Their New Year's Resolutions to lose weight and get back in shape are long gone.
They're ready to try again. In fact, they're INSPIRED. But they don't want the same old/same old that's failed before. They pick up their mobile device and start typing:
"Personal trainer near me." "Nutrition coach near me." "Weight loss."
WHO do they find? Which studio or gym is the first choice? What do the couple who are inspired to ACT do next?
Those are exactly the questions you need to be asking TODAY. Because there's a 92% chance a studio/gym owner or personal trainer, studios, or gyms phone is going to ring within 24 hours of that search!
Will it be yours?
That the question we'll answer in this article:
1. Build your online presence
Scenarios like this one are repeated every day, all day, for every product and every service in the world. In fact, 7.8 billion people visit local directory sites such as Google, Yelp, NextDoor every week.
And they're not just 'browsing'. They're looking to BUY NOW. And they're using what's known simply as "Local Search" to do it – looking for businesses near them who provide the services they want.
And the key is to get into the top 3 search listings. That's where 92% of the traffic goes. If you want these leads, you need to be there. If you get these leads, you'll get a steady supply of these leads.
You get into that top 3 by building your online presence. You want to be in all the major directories (especially Google My Business, Nextdoor, and Yelp). And you want to be in as many of the minor directories as possible.
You want your information to be complete (locations, hours of operation, phone, website). You want the info to be consistent across ALL the directories. And the information must be specific to the services you provide and accurate, so primary keywords drive to you..
Only when your info is complete, consistent, specific, accurate, and in numerous directories does Google TRUST the information. That's when you'll start appearing higher and higher in the rankings.
2. Optimize how your business appears online
In today's world, people trust what others say about you–not what you say about yourself. That means you need a plan for building your business reputation online with reviews.
When Google/Yelp/NextDoor sees you are highly rated by clients, they will raise your rankings.
You need to get reviews from your happy clients. Don't leave this to change – have a plan, such as asking during renewals, or after a client has reached a milestone.
Respond quickly to ALL reviews (within 24 hours), both positive and negative. Even if you get negative ones, you'll be noted for a quick response. And you want to make sure reviews are recent. Don't let the grass grow under your reviews. Get more if people are not logging in.
The better, recent, and quantity of reviews, the more reputable appear not only to prospective clients, but to Google. You'll be on your way to be promoted into the coveted "Google 3-pack".
3. Dominate your local market
Getting to the top is one thing. Staying there is another. The Google 3-pack is like the game "king of the hill." Once you're on top, you're the target.
You'll need to monitor competitors, stay on top of your primary keywords, and make sure your information stays accurate across the Internet.
But once you can do this, in some local markets, you'll generate between 80-100% of all the marketing traffic you'll need. It's truly "winner take all."
One of our clients, Hassan Abdallah, owner of Volume Fitness in Kogarah, NSW, Australia, has made Local Search a central part of his marketing plan. He's consistently bringing in 6-8 new clients per month- on autopilot- from local search.
In fact, he has stopped doing any other paid advertising because of the quality of the leads from Local Search. He's found these leads easily and quickly convert into long-term clients.
Summary
Complete, consistent, accurate, up-to-date, and specific. Those are the first key to raising your rankings through a powerful online presence. Both potential clients and the search engines that will drive these prospects to you all want trustworthy info.
The next key are reviews. You need a strategy and plan for getting, responding to, and updating reviews.
And once you get to the top of the hill, stay there. Monitor the competition. Make sure your primary keywords are still driving to you. And ensure info stays relevant and accurate.
Once you do that, you'll dominate your local search and collect the best, most ready-to-buy prospects!
About the Author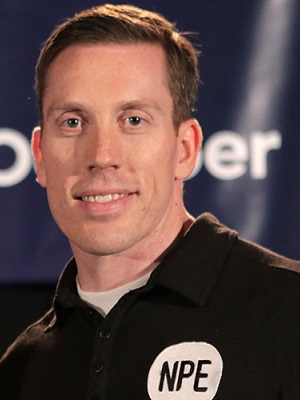 Sean Greeley, Founder and CEO of NPE, has an unrelenting passion for inspiring fitness professionals and business owners to realize their unlimited potential. Since 2006, NPE has helped over 45,000+ fitness professionals and business owners in 96+ countries grow their client base and income to the next level.
How does your fitness business appear online when prospective clients are looking for services like yours? Discover by instantly scanning 50+ online directories and discover what's missing from your online listings with the NPE Local Search Scanner™ tool: https://www.npefitness.com/LocalSearch-WL